The content on this page is marketing communication
Our approach to sustainable investments
This is built upon four main pillars. Each method is applied in different circumstances and leads to different investment outcomes. The full potential of a sustainable investment strategy is only realised when applying the methods together.
Nous produisons un rapport trimestriel sur les travaux de durabilité réalisés.
Ce rapport est un compte-rendu de nos travaux mais également de notre philosophie concernant la durabilité. Il décrit comment nous incorporons les composantes environnementales, sociales et de gouvernance au sein du processus d'investissement ainsi que nos valeurs de durabilité dans l'entreprise SKAGEN.
Vous pouvez trouver nos rapports de durabilité ci-dessous au format PDF.
SKAGEN applies the same straightforward approach to sustainability as we have to our longstanding investment philosophy – the art of common sense. Click the button below to read about how we integrate ESG throughout our investment process, our team and corporate sustainability in SKAGEN.
Read our Sustainability Brochure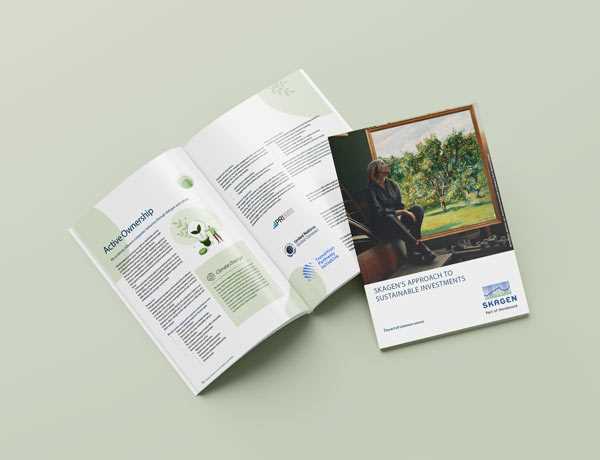 Environmental, Social and Governance Policy
Our sustainability policy combines the strengths of both SKAGEN and Storebrand within sustainable investing and active ownership.
What sustainable investing means to us
When selecting companies, we assess environmental, social and governance (ESG) issues before investing.
Principles for Responsible Investment
In 2012, SKAGEN signed up to the UN supported Principles for Responsible Investment (PRI).
In addition to our work as a fund manager, we want to make a positive contribution as an employer, purchaser and social actor.
We aim to be a sustainable fund company that promotes diversity, gender equality and reduces the climate footprint.
Read more here